Choosing Your Christmas Tree
With hundreds of Christmas trees available at Weston Sawmill, choosing one can prove quite the challenge! With so many to choose from it can be quite daunting which is why we've written this handy guide of what to look for when choosing your tree. Each and every year more people choose Weston Sawmill for their Christmas trees in Staffordshire and Shropshire thanks to the enormous range and high quality of our trees.
1. Size Matters!
There's nothing worse than picking out a tree only for it to be too big for it's intended space so make sure you have measured up carefully before making a purchase. We have Christmas trees of all sizes at Weston Sawmill from quaint little 3ft ones to mammoth 12ft Spruces perfect for outdoor use.
2. Know Your Spruce From Your Nordmann
We have a wide variety of species here at Weston Sawmill and all of them have different characteristics. The Spruce is the budget option with prices starting from as little as £15 but has a wonderful festive scent. The Nordmann features greater needle retention and they are also softer making them a good choice if you have young kids. You can read more about the differences between the two in this blog here.
3. Potted or Not?
In addition to our range of regular trees, we also have a range of pot-grown Christmas trees which you might want to consider. A pot grown tree can be used year after year as you can plant it after you're done and repeat the process. With a bit of care, you could use it again and again plus saving the need to send it to a landfill after Christmas.
4. Think About Lifespan
If you want your Christmas tree to last longer than 3-4 weeks, the Nordmann Fir is a better option as it has better needle retention than the Spruce. The traditional day of buying a tree is two weekends before Christmas and the Spruce will be fine in that case, but if not then the Nordmann or a pot grown tree will be better.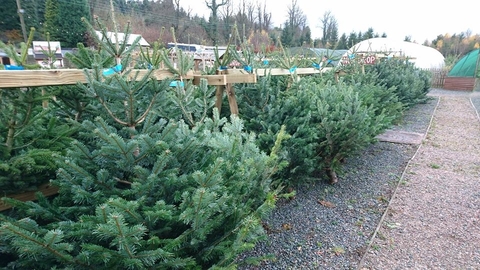 Order Your Christmas Trees in Staffordshire Today
Our full range of Christmas trees is usually available in the last week of November although we can get you one earlier if need be. To find out more about our Christmas trees in Staffordshire, please don't hesitate to ask us for more information.