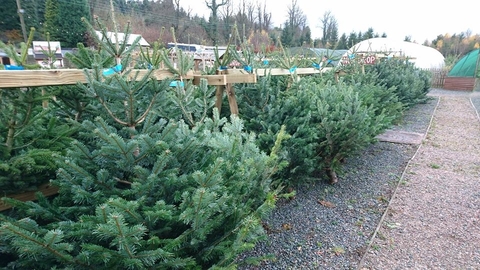 Choosing Your Christmas Tree
Here at Weston Sawmill, we have hundreds of Christmas trees available so choosing one can prove quite the task!
With so many to pick from this can be quite daunting, which is we have put together this handy guide to help to choose your tree. Each and every year our Christmas trees become more popular with customers across Staffordshire and Shropshire, due to our huge top quality range of trees.
When Buying a Real Tree - Know Your Spruce from Nordmann
The Nordmann Fir is one of the most popular trees we sell at Weston Sawmill, due to its good full shape, glossy green colour and excellent needle retention. If you want to put your tree up a little earlier but still want it looking brand new on Christmas day, this is the best choice for you.
We also have the Spruce in our nursery, which is ideal for anyone working to a strict budget. Starting from as little as £15 they also carry a wonderful festive scent.
What To Look For in a Fir Tree
While each type of fir tree has different characteristics, the most important thing to look out for when choosing yours is a deep green, healthy-looking spruce with little to no brown needles. Try giving your tree a little test by running your hands through a few of the branches and if the needles do not drop then you may have found your ideal Christmas tree!
Choosing Between Real and Artificial Christmas Trees
Other than the gorgeous pine smell and luscious green, there are loads of reasons to choose a real Christmas tree instead of an artificial one.
Here are four reasons to buy a real Christmas tree from Weston Sawmill -
Real trees are estimated to use 10 times fewer materials and five times less energy than artificial trees.
Authentic Christmas trees are completely biodegradable and can be recycled and composted
Real trees are a renewable resource, with at least one tree planted when one is harvested.
Christmas tree plantations also benefit the environment by absorbing tonnes of CO2.
Real Christmas trees are a sustainable and renewable resource that has a smaller carbon footprint than artificial ones.
Choosing Your Real Christmas Tree
Before you leave the house, measure the height of the room that you want your tree to fit into.
A cut tree should be fresh when purchased. Brush it gently with your fingers or tap it lightly on the ground and if plenty of needles fall off it could be an old tree. Also, avoid any brittle branches and dull needles.
Buy Your Christmas Tree Today
Weston Sawmill's full range of Christmas trees is usually available in the last week of November, although we can get you one earlier if needs be. To find out more about our Christmas trees, please do not hesitate to contact us for more information.