Made to Measure Gates in Wolverhampton:
At Weston Sawmill we produce our own exceptional range of quality wood and metal gates. All of our gates are available in a range of sizes to fit any type of gateway. We specialise in producing made to measure gates of both wood and metal materials on a bespoke basis.
All of our gates are constructed with artisanal craftsmanship using beautiful Swedish redwood. All of our redwood gates are pressure treated to ensure strength, durability, and quality. Our gates are ideal for a range of areas, whether it's within your home garden or as part of the infrastructure of a farm or other agricultural complex.
Made to Measure Gates in Wolverhampton from Weston Sawmill:
We have over twenty years of experience in supplying woodworking solutions to businesses and homeowners. Our staff at Weston Sawmill and Nursery are made up of a range of experts and enthusiasts in both fields. We regularly provide our services to the Shropshire, Staffordshire, and Wolverhampton areas – as well as the surrounding West Midlands area. In addition to supplying high quality made to measure gates, we also have a range of other artisanal woodworking products, as well as a range of trees and plants from our budding nursery. We can work to a range of requirements and frequently supply sheds, decking, fencing, as well as producing bespoke solutions to meet customer needs. We offer delivery services of our made to measure gates throughout Wolverhampton and are happy to arrange a date that works for you.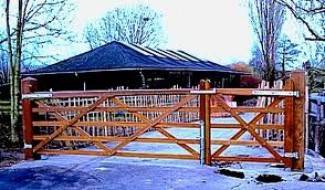 Find out more about our made to measure gates in Wolverhampton:
Click to view our full range of our made to measure gates. Whatever you decide on, we can help you every step of the way to make sure you're happy with the result and can rest easy in quiet confidence. If you have any questions, we're always happy to take enquiries, so get in touch!