At Weston Sawmill, we produce our own exceptional range of quality wooden decking in Staffordshire. Our decking is available in a range of sizes, including 3m, 3.6m, 4.2m, and 4.8m. If you have limited space, we also have a made-to-measure service to produce bespoke decking to tailor to your specific needs.
All of our supply of decking in Staffordshire is made with artisanal craftsmanship using kiln-dried Swedish redwood timber. All of the redwood used in our decking is pressure treated to ensure strength, durability, and quality. Once the pressure-treating is complete it is then treated with a water repellent solution to help protect it from the elements. All of our decking options are ideal for patios and gardens as an extension of your living area.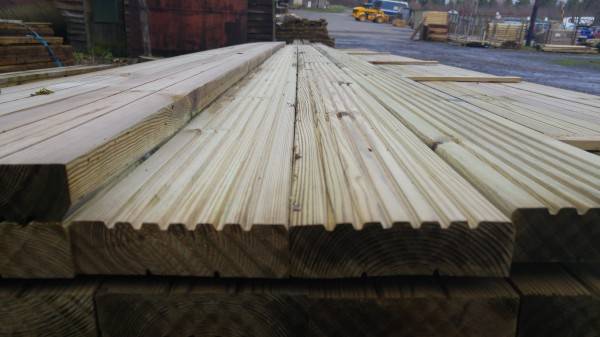 Why Choose Weston Sawmill for Decking in Staffordshire?
We have over 20 years of experience in the woodworking and arboreal industry. Our staff at Weston Sawmill and Nursery are made up of a range of experts and enthusiasts in both fields. We regularly supply our customers with decking in Staffordshire as well as Wolverhampton and surrounding West Midlands areas. In addition to supplying high-quality decking in Staffordshire, we also have a range of other artisanal woodworking products - from trees and plants from our nursery to fencing, gates and garden furniture. We supply a wide range of beautiful wooden products that are made to meet our customer's needs.
To make life easier, we offer local and nationwide delivery for decking in Staffordshire, Shropshire, Wolverhampton and surrounding areas. We would be happy to arrange a date and time that works best for you.
Order Your Decking in Staffordshire Today!
If you're interested in extending your outdoor living space, browse our full range of decking in Staffordshire. Whatever you decide on, the expert team at Weston Sawmill can help you every step of the way to make sure you're happy with the finished result. You can expect your decked area to be your new favourite spot! Dine and relax outdoors with a great view of your garden! For a no-obligation quote, call us on 01952 850383. If you have any questions, we're always happy to take enquiries, so get in touch through our website.